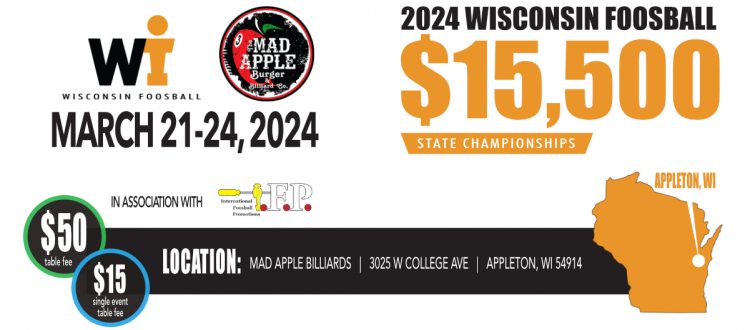 Bump it to $12,500! We're officially announcing the 2024 Wisconsin Foosball State Championships – March 21-14, 2024! Largest purse EVER!
The 2024 Wisconsin Foosball State Championships will take place in Appleton, WI on March 21st-24th of 2024! This event will be held once again at The Mad Apple Burger & Billiard Co. We have added the following new events this year:
We are always looking for sponsors to help contribute to the success of this amazing event. If you are interested in sponsoring or learning more about sponsorship packages please contact info@wifoos.com
The tournament will once again be certified by USTSO, meaning that players finishing top in their category in singles will have a chance to compete against one another in the USTSO Championships! For more information on that, please see the official www.usafoosball.com website.
Keep checking the official Wisconsin Foosball website for regular news and updates regarding this year's state event.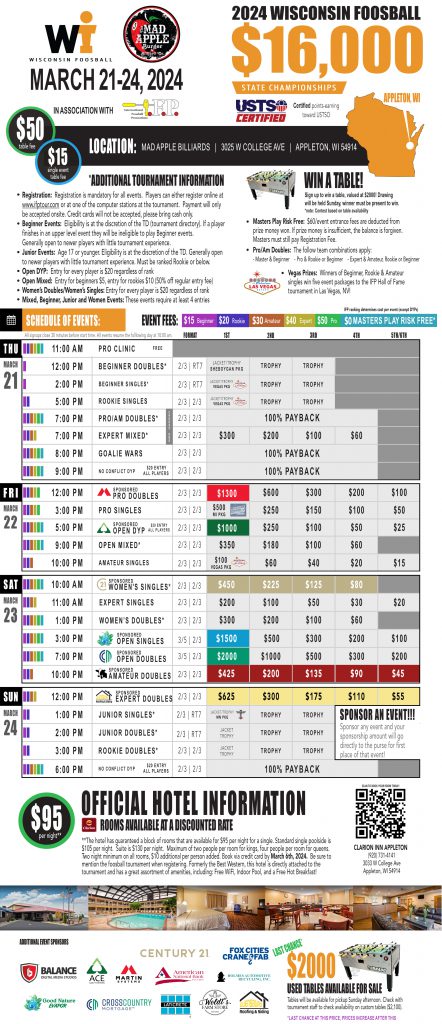 Helpful Links:
– Offical Flyer: http://www.wifoos.com/wp-content/uploads/2023/08/2024_WIState_flyer_full-scaled.jpg
– Official Website: http://www.wifoos.com
– Official Event Page: http://www.wifoos.com/2024-wi-state-championships/
– Facebook Event Page: https://www.facebook.com/events/1091489968531467