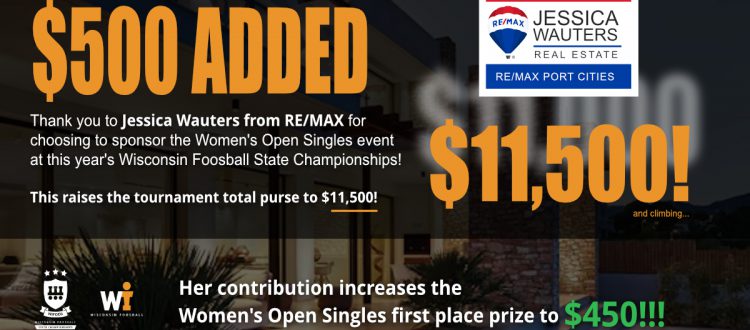 Female fooser Jessica Wauters from RE/MAX joins the Wisconsin State Foosball Championships sponsorship team and helps push Women's Singles to a top payout on tour!
Wisconsin Foosball extends a HUGE thank you to Jessica Wauters from RE/MAX as she has added an additional $500 dollars to the State Championships Women's Open Singles purse. This contribution has increased the total event payout to $880, with $450 of that going to first place!
This prize will be one of the biggest Women's Open Singles payouts on tour!
Their generous contribution has also raised the tournament total purse to $11,500!
About Jessica Wauters from RE/MAX

I have been involved in the Real Estate industry for almost half my life! From assistant to the Broker, to Office Manager to Broker Associate. As a native of Green Bay and an experienced agent I am well qualified to help buyers and sellers with any of their Real Estate needs. In my personal life and my business I like to live by the old adage "treat others as you would like to be treated". Every client is important to me and it is my goal to make each transaction as smooth and simple as possible. When I am not helping clients, I enjoy spending time with my husband, children and family, hunting, skiing and spending time outdoors.


Read more here: jessicawauters.remax.com