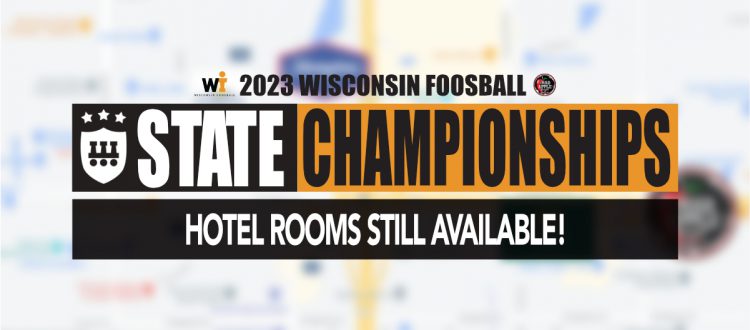 Have you booked your room for Wisconsin State yet? Hurry, block ends March 9th!
Rooms are filling up fast at the official hotel! If you haven't reserved your room today, give them a call immediately and to check what's available.
This awesome hotel has blocked the entire hotel for us, here are the details:
$85 per night for a single
Standard single poolside is $95 per night.
Suite is $130 per night.
Maximum of two people per room for kings, four people per room for queens.
Two night minimum on all rooms, $10 additional per person added.
Book via credit card by March 9th, 2023.
Be sure to mention the foosball tournament when registering.
This hotel is directly attached to the tournament and has a great assortment of amenities, including: Free WiFi, Indoor Pool, and a Free Hot Breakfast!
Contact the hotel by phone or book online:
Hotel Location:
https://goo.gl/maps/wuwAM5iaM2ohKBe88
We have the entire hotel blocked until March 9th, don't delay!