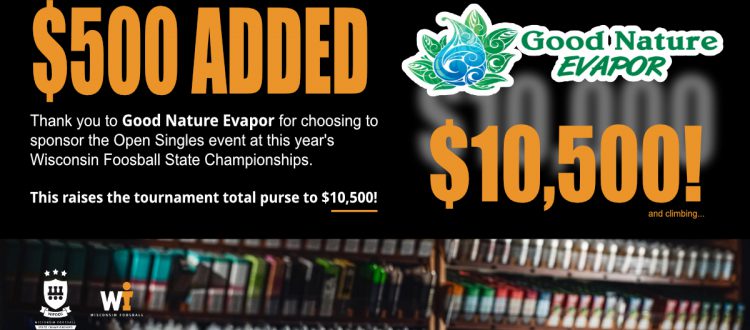 Good Nature Evapor is now the official sponsor of Open Singles at the 2022 Wisconsin Foosball State Championships!
Thank you to Good Nature Evapor for choosing to sponsor the Open Singles event at this year's Wisconsin Foosball State Championships. By adding an additional $500 to the event the Open Singles first place payout has been increased to a $1,500!
This prize is the now the third biggest payout on tour for such an event, second only to the World Championships and the Hall of Fame Classic!!!
Their generous contribution has also raised the tournament total purse to $10,500!
About Good Nature Evapor

When this company was founded in 2013, our goal was to convert as many traditional tobacco users to a healthier alternative as we possibly could. Our team strives to provide not only excellent customer service, but also an excellent overall experience. We always focus on empowering our customers with as much information as they need because we realize we are vital to their success. It is our mission to make a genuine impact on the health and well-being of the people in our community.

Our team is highly experienced and well versed in a plethora of equipment, ensuring our customers to be properly equipped when walking out our door. Our employees do not work on commission. For that reason, you will never experience a high pressure sales environment at Good Nature.


Visit them here: www.goodnatureevapor.com