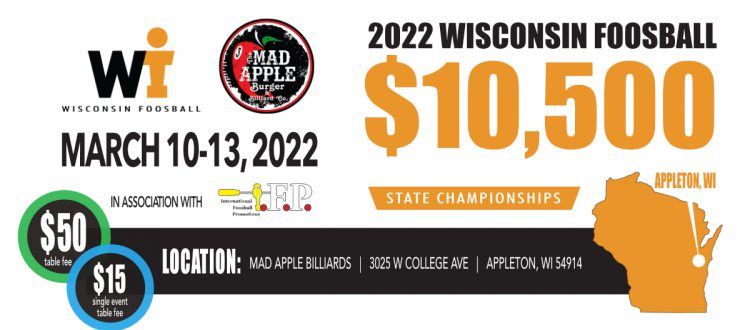 Bumped up to $10K, the 2022 Wisconsin Foosball State Championships is coming your way! March 10-13, 2022!
The 2022 Wisconsin Foosball State Championships will take place in Appleton, WI on March 10th-13th of 2022! This event will be held once again at The Mad Apple Burger & Billiard Co. We're excited to announce that this year we have increased our total payout purse to $10,000! We've added a day to the event, and in doing so we have added the following new events:
Rookie Singles
Pro Singles
Junior Singles
Junior Doubles
Expert mixed
The tournament will once again be certified by USTSO, meaning that players finishing top in their category in singles will have a chance to compete against one another in the USTSO Championships! For more information on that, please see the official www.usafoosball.com website.
Like always, our players' health is a top priority. The Wisconsin Foosball Organization is contuining to monitor the COVID-19 activity throughout the state. As the event draws closer stay tuned to the official event page, as it will be updated to inform players as new rules and regulations are implemented that may have an impact on the state tournament.
Keep checking the official Wisconsin Foosball website for regular news and updates regarding this year's state event.
Helpful Links:
– Offical Flyer: http://www.wifoos.com/wp-content/uploads/2021/12/2022_WIState_flyer_full-scaled.jpg
– Official Website: http://www.wifoos.com
– Official Event Page: http://wifoos.com/event-2022-wi-state-championships/